Wood floors are designed to withstand normal wear and tear, and regularly scheduled professional cleaning will extend the life of your floors even longer.
However, there eventually comes a time (typically every 7-10 years), when you want to revitalize your wood floors and restore them to their original brilliance. This is the best time to schedule a wood floor refinishing project with Esteamed Solutions.
Traditionally, refinishing your wood floors would require several days of work, potentially dangerous chemicals, and possibly relocating while the project is being finished. With our advanced techniques and proven technology, we can complete the entire project in a way that is safe, timely, and affordable.
When you contact Esteamed Solutions, our expert technicians will first survey your floors to determine if a refinish is the best solution – or if they simply need to be professionally cleaned. We will walk you through each step of our assessment, and we will never recommend a service that is not essential. We have become a trusted source for carpet and floor cleaning throughout Gainesville, Ga because of our integrity and commitment to clients in our community.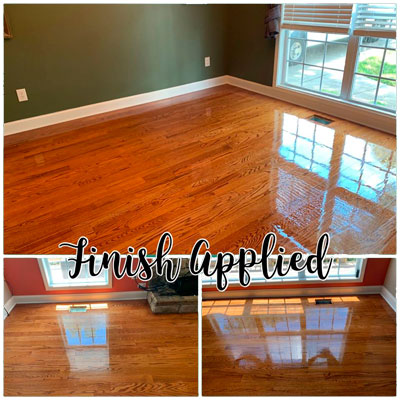 We use only environmentally safe materials during this process, so you can feel secure knowing that your home will remain safe and healthy throughout the project.
The benefits of refinishing your wood floors include brighter shine, reduction or elimination of scratches, and a consistent, beautiful look – it will be like walking into a room with brand-new flooring.
Wood floor restoration and protection needs to last a lifetime. When you enhance this project with regularly scheduled cleanings, you can guarantee that your wood floors will last many years – and will look great along the way.
If your wood floors need an expert refinish, contact us today at Esteamed Solutions. We will work with you to restore your floors and keep them shining for years to come.